We're all constantly looking for ways to improve our health, complied here are some articles , tips, recipes all aimed at improving our health. If there is something you have a question about or something that is not posted, here, email me and ask!
Make the Connection! www.maketheconnection.org Make the connection to support cervical cancer awareness. Cervical cancer is one of the most preventable types of cancer, but about 3,700 will die from it this year. "Make the Connection is a public education campaign sponsored by Cancer Research and Prevention Foundation (CRPF) and Step Up Women's Network, with funding from Merck & Co., Inc., to raise awareness and understanding of the connection between cervical cancer and human papillomavirus (HPV) - a common virus that causes this devastating disease. The campaign provides tools and facts to encourage women to make the connection with healthcare professionals, friends, daughters, sisters, mothers and other loved ones to share knowledge, get regular screenings and make healthy choices, and inspire each other to beat cervical cancer and protect their health and lives. So connect with your friends, daughters and other people you enjoy and care about to create your own personal statement to help in the fight against cervical cancer."
Dental Myths!
Myth #1: X-rays are dangerous and the radiation can cause harm. Truth: The amount of radiation we're exposed to on a typical day is equal to that found in a single dental film. X-rays are the only way to detect disease blow the gum line or inside a tooth.
Myth #2: The mouth has no relationship to the rest of the body's health. Truth: The condition of your teeth can affect your overall systemic health.
Myth #3: Brushing, flossing and mouthwash will eliminate bad breath. Truth: These actions temporarily mask the smell, but are only eliminated when your teeth are professionally cleaned by a hygienist or dentist.
Myth #4: Dentists do not need many credentials to practice. Truth: Licensing of dentists is heavily regulated. Dentistry has become a full-fledged healthcare science that demands post-graduate certification training.
Myth #5- Removal of upper teeth affects vision. Fact - There is a myth among many people that removal of the upper teeth affects vision. This is a misconception. Vision is not affected in any way by undertaking treatment of the upper teeth including its extraction.
Myth #6 Professional cleaning/scaling/removal of tartar loosens the teeth.
Fact - Teeth are held firmly by the supporting tissues of the periodontium including bone. Bad oral hygiene results in the deposition of tartar /calculus on the tooth surface. These deposits irritate the gums and can cause inflammation and bleeding of the gums. If the tartar is not removed, the gums may recede and the supporting bone around the teeth gets destroyed. The tartar on the teeth thus causes great harm to the supporting tissues of the teeth. However, patients may experience slight mobility of the teeth after tartar is removed as it kind of binds the teeth together. Professional cleaning removes this tartar and arrests further destruction of supporting bone. Removal of tartar deposits only helps to recover the health of supporting structures. This chain of events does not take place in people who have dental checkup regularly.
How sweet it is—Chocolate and heart health
---
by Keecha Harris, Dr.PH, R.D., for MSN Health & Fitness
Could a luscious dark chocolate truffle be a cure for heart disease and diabetes? Not quite. Research on dark chocolate has shown that it can be good for your health. But, sadly, chocolate remains a high calorie treat and should not be the focus of your wellness plan.
Still, we have the Kuna Indians to thank for cluing us in to the health benefits of chocolate. The Kuna who live on an island off the coast of Panama have an extremely low prevalence of cardiovascular disease, diabetes, high blood pressure and high cholesterol. However, when they move away from their traditional diet, rich in cocoa beverages, the Kuna develop these diseases at a much higher rate. This knowledge spurred business and research interests to investigate how chocolate—more precisely dark chocolate—lowered diabetes and heart disease risks.
So, what does the research say? Unlike white or milk chocolate, dark chocolate has a powerful antioxidant punch. These antioxidants interact with other chemicals in the chocolate, which means it would be difficult to capture in a supplement, to prevent the damage of free radicals on our cells. (Free radicals have been linked to heart disease and cancer as well as more benign conditions like wrinkles.) The antioxidants also lower blood pressure by expanding blood vessels and help cells use glucose better by improving insulin sensitivity. All of which directly contribute to better heart health; however, more research will need to be done to determine whether diabetics and hypertensives would also benefit from brown gold.
Again, it's not just any old chocolate that will make a difference. Dark chocolate is high in antioxidant-rich flavanoids. Whereas, white chocolate doesn't contain flavanoids at all and milk chocolate is low in them. Milk chocolate has low cocoa content, and it is cocoa that contains the flavanoids. When choosing dark chocolates, opt for the more expensive ones, as they usually have higher levels of flavanoids. Specifically, buy bittersweet chocolate with at least 60 percent cocoa content.
Is there now a daily recommendation for dark chocolate consumption? We wouldn't be so lucky —the therapeutic level varies greatly depending on the type and source of chocolate. Some of studies indicate that health benefits are seen with consumption of 3.5 ounces—a block of chocolate about the size of a deck of cards. Since this is nearly 500 calories, you need to think about other ways to get your antioxidants—like by eating veggies and fruits and drinking teas. Or you'll need to get a good dose more of exercise to control your weight. Also, keep in mind that chocolate is still at the top of the pyramid because of its high concentration of sugar and fat. So, eat it sparingly. A few squares per week is plenty.
So, scratch the idea of installing that chocolate fountain in your bedroom. But when you have the urge for a sweet treat say yes to dark chocolate.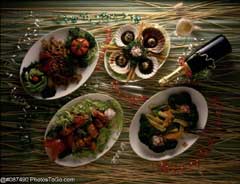 Healthy Recipes
Breakfast
Orange Bananna Smoothie
3/4 cup orange juice
1/2 cup sliced banana
2 teaspoons packed brown sugar
1/8 teaspoon almond extract
2 ice cubes
Fresh mint sprig, for garnish

What to Do
1. Combine orange juice, banana, brown sugar, and almond extract in a blender.

2. Add ice cubes and blend until thick and smooth. Pour into a serving glass and garnish with a mint sprig, if desired.

Pepper Omlet
2 eggs
4 egg whites
2 teaspoons fat-free milk
1 teaspoon paprika
1/4 teaspoon salt
1/4 teaspoon pepper
2 tablespoons finely chopped onion
2 tablespoons finely chopped sweet red pepper
2 tablespoons green pepper
Chopped Ham or Turkey
1/4 cup shredded part-skim mozzarella cheese


What to Do
1. In a small bowl, beat the eggs, egg whites, milk, paprika, salt and pepper. Coat an 8-inch nonstick skillet with nonstick cooking spray and place over medium heat. Add half of the egg mixture. As eggs set, lift edges, letting uncooked portion flow underneath.

2. When eggs are set, sprinkle half of the onion, red pepper and cheese over one side; fold omelet over filling. Cover and let stand for 1 minute or until cheese is melted. Repeat with remaining ingredients.

Serves 2

Lunch
GOURMET SPINACH SALAD
2 teaspoons lemon juice, fresh
1 teaspoon olive oil
2 tablespoons white wine vinegar
4 cups of spinach leaves
2 large tomatoes, chopped
1/4 cup goat cheese, crumbled
1/4 cup diced apples
1 chopped hard boiled egg

1 tablespoon pine nuts, toasted
Salt & pepper to taste

1. Whisk lemon juice, oil and vinegar together. Add salt & pepper to taste.

2. In a large bowl toss spinach leaves with dressing.

3. Add the tomatoes and goat cheese, apples, egg mix gently to flavor entire salad.

4. Sprinkle pine nuts over entire surface of salad
Gouda Turkey Sandwich
Cooked Turkey Breast (lunch meat ok)
Sliced Avocado
Sliced Red Onion
Green Leaf Lettuce
Pumpernickel Bread
Place all ingredients on toasted bread, now how easy is that! Add mayo / black pepper to taste.
Dinner
Bruschetta Steaks
1 Tbsp. oil
6 thin boneless beef steaks (1/4 to 1/2-inch thick, 1-1/2 lb.)
2 large tomatoes, chopped (about 2 cups)
1 yellow pepper, finely chopped
1/4 cup KRAFT Zesty Italian Dressing
1 pkg. (6 oz.) STOVE TOP Stuffing Mix for Chicken, prepared as directed on package
1 cup KRAFT Shredded Low-Moisture Part-Skim Mozzarella Cheese
HEAT oil in large skillet on medium-high heat. Add steaks; cook 1 min. on each side or until lightly browned on both sides.
MEANWHILE, mix tomatoes, peppers and dressing; spoon over steaks. Top with prepared stuffing; sprinkle with cheese.
REDUCE heat to medium-low; cover. Simmer 3 to 5 min. or until cheese is melted and steak is cooked to medium doneness (160°F.)
Dill Potato Salad
/2 cup KRAFT Mayo Real Mayonnaise
1/4 cup chopped fresh dill
1/8 tsp. each: salt and black pepper
4 cups cooked cubed new potatoes
1/2 cup chopped scallions (green onions)
COMBINE mayo, dill, salt and pepper in large bowl.
ADD potatoes and scallions; toss to coat. Cover.
REFRIGERATE several hours or until chilled.
Snacks
Protein Bars
3 1/2 cups rolled oats
1 1/2 cups dry milk
1 tbsp cinnamon
1 cup lite syrup
2 scoops protein powder
2 egg whites
1/4 cup orange juice
1 tsp vanilla
1 cup craisins (cranberry/raisins, or cranberries or raisins) or chopped apple and chopped nuts

Mix all ingredients as you add them to each other and then in a waxpaper lined cookie sheet spread the mixture out. After you do this and before you bake them, take a butter knife and cut them into 10 squares. Put them in a 325' oven until lightly browned (about 15 minutes) and store them in an airtight container for up to 2 weeks without refrigeration.

Makes 10 Bars 1Bar = 200 calories 12.2 g protein 25 g carbs



Improving Your Excercise

A few pointers to make the most of your workout...

Drinking 8oz of caffine 10 minutes prior to your workout will enhance your endurance up to 30 minutes and it will improve your metabolism if drinken on an empty stomach!

Don't work a muscle until it is sore.

Adding reps does not burn fat.

For muscle, growth rest 2 minutes between sets. For muscle maintenance or endurance, rest 1-1.5 minutes between sets.

If doing cardio and weight training, do your weight training first, this will improve your results and give you more endurance.

Walking just 10 minutes a day can increase your fitness level.

Do 10 crunches every morning when you wake up, it will boost your blood flow and improve your abs!

Muscles need rest, work one group (eg arms, legs) every other day. This will allow your muscles to rebuild and repair.

Eat before bed, while you sleep your muscles will continue to grow using nutrients you ingest!

For Muscle Aches- fill a tube sock with dry rice, tie it or sew it at the end to seal it. Heat in microwave for 2 mins, you'll have 20 minutes of soothing heat to relax the muscle!

Top 18 Benefits of Weight Training


1. Weight training tones your muscles which looks great and raises your basal metabolism... which causes you to burn more calories 24 hours-a-day. You'll even burn more calories while you're sleeping.


2. Weight training can *reverse* the natural decline in your metabolism which begins around age 30.


3. Weight training energizes you.


4. Weight training has a positive affect on almost all of your 650+ muscles.


5. Weight training strengthens your bones reducing your risk of developing osteoporosis.


6. Weight training improves your muscular endurance.


7. Weight training will NOT develop big muscles on women....just toned muscles!


8. Weight training makes you strong. Strength gives you confidence and makes daily activities easier.


9. Weight training makes you less prone to low-back injuries.


10. Weight training decreases your resting blood pressure.


11. Weight training decreases your risk of developing adult onset diabetes.


12. Weight training decreases your gastrointestinal transit time, reducing your risk for developing colon cancer.


13. Weight training increases your blood level of HDL cholesterol (the good type).


14. Weight training improves your posture.


15. Weight training improves the functioning of your immune system.


16. Weight training lowers your resting heart rate, a sign of a more efficient heart.


17. Weight training improves your balance and coordination.


18. Weight training elevates your mood.


Author and exercise physiologist, Greg Landry, M.S., publishes a FREE email newsletter, "Fitness, Health, & Weight Loss"! To start your free subscription mailto: Fitness-on@mail-list.com or http://www.Landry.com


Copyright 1998 by Greg Landry, M.S.